I'm very excited today 🙂 My co-worker Anders Carlsson has spent the last two months with starting a port of GTK+ to the Mac OS X Cocoa framework, so GTK+ applications will eventually run natively (without needing X11) on that platform.
The port is still in its early stages and incomplete, but after these few weeks it's already complete enough to give compiling GIMP a try.
I was trying to run GIMP on the port for about a week now, but the port was not complete enough, so I almost fell apart when I tried it again after Anders' latest commits last night: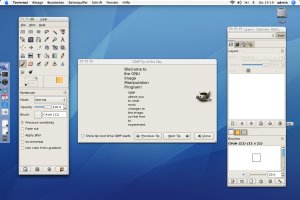 Wheeeeeeeeeeee! This is just amazing, especially after just two months of hacking. And Anders will continue improving it. The source will be public soon for others to help improving, and I will definitely keep GIMP running on it constantly. This will be a lot of fun!
(Disclaimer: the screenshot above is really a very early state, GIMP was just generous enough to not crash but show these three windows instead. It will be constantly improving, both look-and-feel and desktop-integration wise, so please don't complain that GIMP on OS X should actually look a bit different ;))